The History of Sullivan Supply Company in Erie, PA
Posted on December 19th, 2022 at 9:35 AM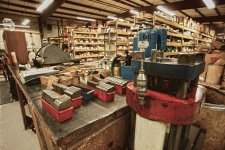 Sullivan Supply Company started, as most businesses do, with determination. Ray Sullivan was an entrepreneur that wanted to be his own boss and run a successful company. His background in industrial sales helped him create this business and keep its customers returning.
Ray's passion for giving his customers the best was passed down to his son, Mark Sullivan, who has worked at the company for 48 years. He began working at Sullivan Supply Company in his early teens and has worked every job available in the company, allowing him to understand every aspect of running a successful business.
Susan Sullivan, the wife of Mark and vice president, has also been in this business for 10 years, providing her expertise in financial and business systems, which enhances our customers' buying experience.
Our family-owned business is driven to provide our customers with the best service and product knowledge in the Industrial Piping Specialities Industry. Sullivan Supply is your destination for custom valve and hose assemblies and your other production or MRO needs.
What Makes Sullivan Supply Company Different?
The employees at Sullivan are what make us the best option for your project. With over 150 years of combined experience, our people are extremely knowledgeable about the industry and can provide assistance to any client without hesitation. It is clear to every client that the employees at Sullivan Supply Company love what they do and can take care of their needs quickly.
Sullivan Supply Company has a wide range of customers. Our products can be found in production and maintenance applications for international manufacturing plants like Wabtec and Lord Corporation.
We also provide products and support for plant maintenance and production to many prominent local companies, including PSB Industries, Hero BX, Welch's, and Erie Strayer to name a few. Sullivan Supply collaborates with the area's leading mechanical contractors like W.T. Spaeder and Scobell Company. You can find Sullivan Supply products across Northwest Pennsylvania on state, local, and private snow plows, garbage trucks, and equipment that uses hydraulic hoses. Companies in the region's food, wine, and craft beer industry, like Southern Tier Brewery, Erie Brewing, Better Baked Foods, and JTM Foods, depend on Sullivan Supply's knowledge of material handling hose and fittings.
Sullivan specializes in vendor-managed inventory, so you don't have to worry about your merchandise. We will ensure you have what you need on hand to keep your business operating at peak efficiency. Our technical sales team has the resources to address even the most unique hose, valve, or fitting requirements.
The Mission Statement of Sullivan Supply Company
When you have been in a business for as long as Sullivan Supply Company, you know the ins and outs of the industry and can help any customer.
We strive to keep as much inventory in stock as possible so you can find the solution quickly. If Sullivan doesn't have the ideal parts in stock, we know where to get the product and have the means of finding it.
The end goal of all Sullivan employees is to give the customer the best product for their project. We want your specifications to be satisfied rather than simply making a sale. It is much more important that your project is finished correctly.
Sullivan Supply Company wants to give every one of our customers the highest quality products so they can be confident in their purchase. Finding the perfect hoses, valves, and accessories can be difficult, so Sullivan is here to make it easy.